Skip to Content
Dental implants are a great way to replace missing teeth and provide a fixed solution that avoids having to wear removable partial or complete dentures. They provide excellent support and stability for dental appliances. They also can be considered our third set of teeth.
Dental implants are artificial root replacements that are typically made of titanium, that can be surgically placed into the upper or lower jaw bone. The teeth attached to implants are very natural looking and often enhance or restore facial appearance and a patient's smile!
Precise positioning of the root replacement is the single most important factor when fabricating restorations that are both functional as well as esthetic. Dental implants, or the restorations supported by them, are very strong, stable, and durable and will last many years, but on occasion, they will have to be re-tightened or replaced due to normal wear.
Why Use Dental Implants?
Replace one or more missing teeth without affecting adjacent teeth
Resolve joint pain or bite problems caused by teeth shifting into missing tooth space
Restore a patient's confident smile
Restore chewing, speech, and digestion
Restore or enhance facial tissues and esthetics
Support a bridge or denture, making them more secure and comfortable
Single Tooth Implant Replacement
If patients have one or more missing teeth, dental implants might be the perfect choice! Once placed and restored, dental implants feel and act like natural teeth. Sometimes patients forget they ever had a missing tooth! Dental implants are also a very conservative treatment for replacing missing teeth since they don't rely on the adjacent teeth for support, like bridges and partial dentures.
Same Day Temporary Tooth Replacement
Traditionally, a restorative tooth is not placed on an implant until approximately three months after the implant is fully healed. This process is important to ensure the implant is strong and secure. When an implant is placed, and it is visibly noticeable when the patient speaks, our dental specialists will fabricate a temporary tooth that can often be attached the same day of the implant surgery.
Multiple Teeth Implants
Dental implants commonly replace missing posterior or back teeth as well as anterior or front teeth. This provides unparalleled strength and stability that allows comfortable chewing along with preserving the jaw bone and facial appearance.
The only fixed alternative in this situation
A stable, secure solution that lets you eat what you want
Preserves your facial appearance and prevents bone loss
Regardless of if the temporary tooth (or teeth) are attached to the newly placed implant(s) or with a different method of providing a temporary tooth, our patients leave the day of surgery with teeth that allow them to feel comfortable and confident throughout their healing process.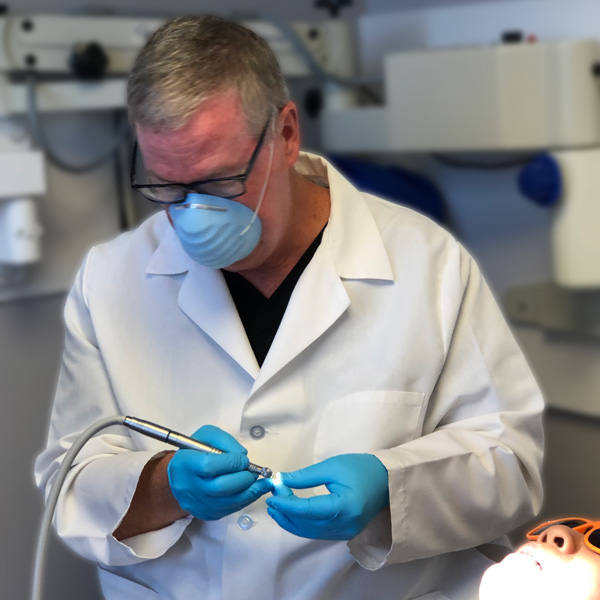 Fixed Dentures / Full Arch Replacement
Fixed dentures, also known as implant supported dentures or hybrid dentures, are dentures that are securely anchored to the patients' jaw by dental implants. Their appearance is like that of a bridge and cannot be removed by the patient. Fixed dentures are the best option for those patients who have lost or are losing their natural teeth in either both the upper and lower jaw, yet would like to wear well fitted, natural-looking prosthetic teeth that are non-removable.
Although the treatment is customarily the same between the upper and lower jaws, the upper tends to have softer bone density requiring more implants to support the new prosthesis. Many times, a temporary fixed denture, also known as an immediate fixed denture, can be placed the day the natural teeth are extracted, and the implants placed. Once the healing process is completed, the "final" bridge or fixed "final" denture is fabricated and delivered to the patient.
Teeth-In-A-Day / All-On-4
A fixed denture consists of placing four or more implants in the lower or upper jaw followed by attaching a final denture. Many patients refer to a fixed, final denture as the "permanent denture." However, it is important to note that like natural teeth, dental prostheses need to be replaced over time due to their constant, daily usage and as a result, are clinically not "permanent." Through the advancements in dental technology, fixed dentures are the most natural looking teeth that maintain a patient's quality of life.
Conventional Fixed Denture – Titanium bar with denture acrylic teeth
Contemporary Zirconia Bridge – Porcelain-like material with a strength that is like metal.
Titanium Substructure with porcelain teeth
Partial and Complete
Overdentures (Snap-In)
Snap-In dentures, also known as implant retained dentures or overdentures are prostheses that although secured by implants, are still removable. The advantages of snap-in dentures focus on increased retention as compared to a conventional removable denture. It is also easier to clean in comparison to a fixed denture. Although removable, the snap-in denture provides the same functional and esthetic necessities patients desire while maintaining a more natural quality of life.
Depending upon the number of implants that are required, it may be possible to eliminate the need for covering the roof of the mouth with a complete denture. This design allows the patient to fully taste food along with a better sense of its temperature and texture. This type of denture design will feel much more natural.
Craniofacial Prosthetics
Secured by Implants
The facial prosthesis is an artificial device used to replace a missing or malformed facial feature. Persons needing a prosthesis may have lost part of their face as a result of cancer, trauma or from a congenital birth anomaly. The most common types of facial prostheses include the nose, ears, and eyes.
As maxillofacial prosthodontists, Drs. Singer, Driscoll, and Bolding, are the leading experts at Dental & TMJ Specialists of Greater DC, who have advanced education and extensive clinical hours working with patients who require craniofacial prosthetics.
Providing You State-Of-The-Art
Dental & TMJ Treatment